We Need a Puppy Break + 
Navigating the Current Market
What we really need right now is more cute pictures of your furry or scaled companions! Take part in our fun "show us your pet" contest for a chance to win an at-home survival kit for you and your furry friends.
Puppies not your thing? Not to worry. You know as much as we love adorable animals, we love digging into data. This week we will show you how Q1 2020 ended, catch you up on the current status of the market, and introduce you to our featured listing.
Finally, we provide a few ways that you can give back during this time while having some fun and cleaning out your basement along the way.
Keep us in the loop! We can't wait to see what new skills you all learn or projects you complete, so post and tag our team @themclarendagostinoteam so we can follow along!
With work from home being the norm for most folks, our four-legged, furry friends are getting to see way more of us than they are use to. In turn, we'd like to see and learn a bit more about them! Post a photo of your pet (all pets welcome!) and let us know how you've been spending your extra time together. Have you been taking extra walks, snuggling on the couch, learning fun IG-worthy tricks together?!?! Let us know and be entered to win a gift card and an at-home survival kit put together by our team for you and your furry friend to share!
HOW TO SUBMIT: Post a photo of your space to IG and/or FB and tag our team @themclarendagostinoteam
#stayathomechallenge
You have exactly one week! We will choose our winners on Tuesday, May 5th.
We can't wait to "meet" your pets!
Design a Space Contest Winner!

Nicky Lewenson's Bedside Coffee Bar
Being Prepared to Navigate the Real
Estate Market
Navigating the Real Estate market in this time is a challenging feat for professionals and consumers alike. Every day things are changing: guidelines, whether we are an essential business, how best to market and facilitate both our buyers and sellers virtually, and in person. Luckily, virtual has always been standard practice for our team. We have creative ways to keep your search robust and your home in front of the right prospects. We are also hosting zooms for clients to prepare their homes to list, to discuss pricing, and additional steps they should take to sell or purchase a home.
Everyone has an interest in Real Estate, whether you're a home owner, an active or aspiring buyer or renter. Our team is staying up to date on the current state of the economy and how future actions and trends will impact the housing market.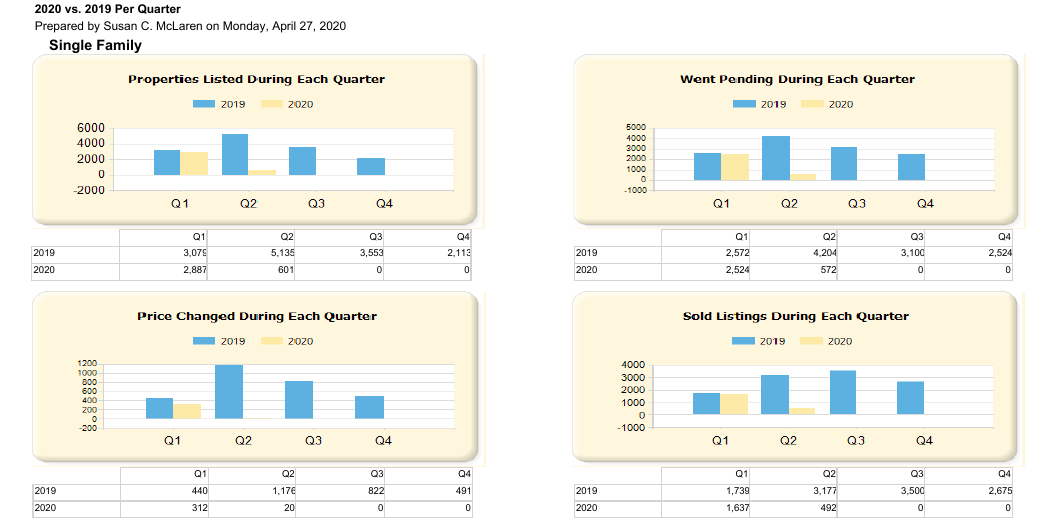 When comparing the data from the first and second quarter in 2019 and 2020, there are a number of important patterns to draw from while preparing to enter the market. The number of homes listed and sold along with the average price per home during Q1 2019 remained approximately the same in Q1 of 2020. As we progressed into the second quarter and experienced the shutdown from the virus, properties listed decreased drastically when compared to last year, coming in at an almost 90% decrease in listings. It's important to note that, of those homes that were listed, 82% of them closed during the second quarter compared to 60% last year.
Despite the decline in available homes, buyers are still actively viewing homes, making offers, and closing deals.
While inventory has changed recently, the average listing prices have experienced a slight decrease while sold prices are remaining steady. When looking from the buyers side, we've seen a decrease in over-extended bidding wars and an increase in offer acceptance rates. From the sellers side, there is an increased emphasis on knowing the market trends and properly pricing a home to peak interest and drive traffic. Homes that were well equipped with a digital marketing plan and tour in place have maintained the rate of sale in the area.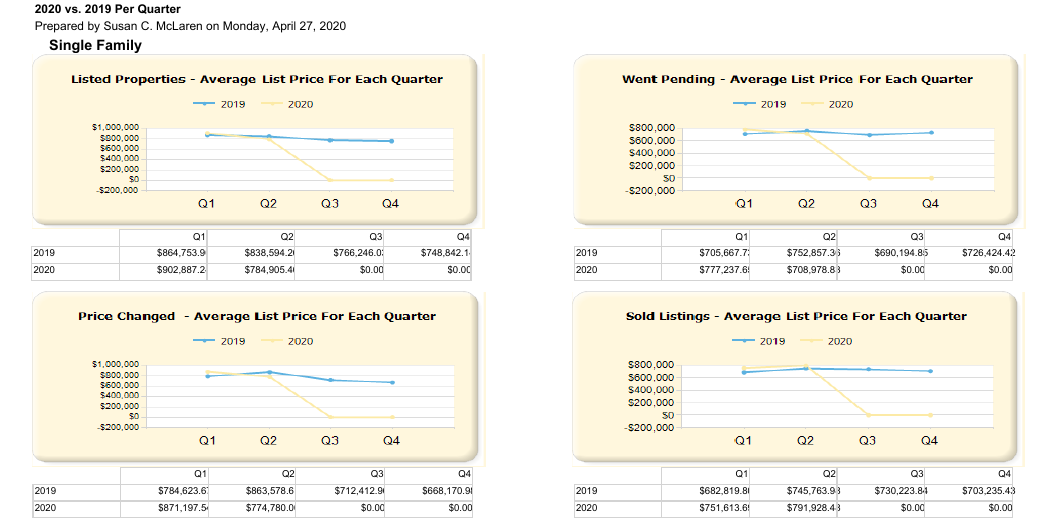 * All data is for Suffolk and Middlesex county, please email us for information on your specific market.
While we may be experiencing a dip in available homes and navigating a virtual closing process, the experts predict a steady incline following the emergence back into normal work and business operations. The resurgence of the market will continue through the year and we suspect will rapidly evolve each quarter, meaning that it is more important now than ever to stay informed.
Whether you are a current buyer or future seller, it's never too early to start tracking the market and getting ready to act. Our team will set you up with the right plan to move forward when the time is right! Let us know how we can help you during this time.
What our Team is 
Reading this Week!
Susan: Thanks Alot Mr. Kibblewhite: My Story by Roger Daltrey

 

Bev: Severance by Ling Ma

 

Jelena: Eleven Minutes by Paul Coelho

 

Andrea: Magic for Liars by Sarah Gailey

 

Maureen: The Light Between Oceans by M.L. Stedman

 

Sarah: Little Fires Everywhere by Celeste Ng

 

Mia: Atomic Habits by James Clear
At-Home Resources of the Week
Grocery Shopping: Get locally sourced delivery directly to your doorstep! Grocery shopping is getting infinitely harder as everyone tries to avoid crowds and essential items keep running out. Small business around Boston has come together to offer a large variety of goods online with most offering free delivery.

Family Resource: EVERYONE is on Zoom these days, so why not take the opportunity to host a family friendly game night with family and friends! It's a great to spend time with other families as well as give everyone a break from the never-ending movie night. Let us know which game is your favorite!
Please consider supporting the effort initiated by East Boston Pediatrics and our friend Ali any way that you can!

Suggested donations include:

ANYTHING that you do not need or that is not being utilized

As a clinic that services mostly low income and newly immigrated families, the need for basic resources has become overwhelmingly evident as they struggle to pay rent and feed their families.
Up-cycled Face Masks:

In light of the CDC's recommendation to wear a cloth face covering in public settings, the lifestyle brand has teamed up with their US factory to up-cycle their remaining, unused reversible legging fabric into reusable, personal-use face masks. Each purchase supports donations of masks to essential workers with another 5% going to the charity "No Kid Hungry". It's a great opportunity help take care of others by taking care of yourself. Continue to grow your giving and support local small business by using this link to purchase through our friend and Peach Independent Stylist Natalie Klees.
FEATURED PROPERTY:
7 Baker Court, Penthouse 8
Boston
This spectacular, full-floor penthouse in the thriving South Bay area is truly one of a kind. Directly accessed by elevator and soaring above the south side of Boston, this 3 bed, 2.5 bath home boasts dramatic city views, a grand open concept floor plan, a chef's dream kitchen, and a master suite with private balcony, custom closet and ensuite bath.
Dorchester is on it's way to becoming one of the most desirable Boston neighborhoods due to the variety of housing stock, and reasonable home prices compared to its surrounding neighborhoods.

The South Bay area, in particular, has a rising appeal for first time buyers, empty nesters, and everyone in between.
| | |
| --- | --- |
| Defined as the first mixed-use community gathering place in Dorchester, South Bay features a curated mix of restaurants, shops, entertainment facilities and fitness concepts in it's pedestrian-friendly District Avenue. With easy accessibility to public transportation, the highway, and all that Boston proper has to offer, the appeal for South Bay is apparent. If you're thinking of buying or selling in Dorchester, give us a shout. | |
© Compass 2020 ¦ All Rights Reserved by Compass ¦ Made in NYC
Compass is a licensed real estate broker and abides by Equal Housing Opportunity laws.
All material presented herein is intended for informational purposes only. Information is
compiled from sources deemed reliable but is subject to errors, omissions, changes in price,
condition, sale, or withdraw without notice. No statement is made as to accuracy of any
description. All measurements and square footages are approximate. Exact dimensions can be
obtained by retaining the services of an architect or engineer. This is not intended to
solicit property already listed.